Providing Quality Care from Your Dentist in Summit NJ Since 1991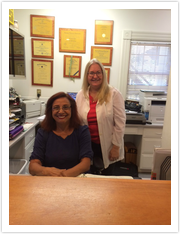 The
Summit NJ dental office
of Dr. Deborah Flynn-Nyktas is dedicated to providing all patients with the absolute highest levels of cosmetic and family dental care. In order to do so, we stay committed to, and hold ourselves to a set of very high standards:
Delivering Results:
First and foremost our practice is patient satisfaction driven. Dr. Flynn-Nyktas knows how important your smile is to not only how you look, but how you feel too. We are not satisfied unless we can help you transform your smile and therefore transform your life. We accomplish this by combining our years of education and experience, allowing us to work at the highest level possible. We are then able to focus on attention to detail, your individual case, and to provide the best possible treatment for all patients.
Commitment to Service:
It is no secret to us that patients are not always thrilled about visiting their dentist. One of our other main goals is to create an atmosphere where patients can feel relaxed about their care. There is more to this than just creating a comfortable decor and warm ambiance. We have brought on the absolute best, most expert, and kind staff that is dedicated to making sure you feel at ease and that all of your questions are answered at every visit.
Stay With the Best Dental Service Provider, Your Dentist in Summit NJ
Patient Education:
Alongside a commitment to making sure your questions go answered is our strong belief in patient education. We always want to make sure you know what services we are suggesting for you, and encourage questions and open dialogue between patient and staff. We believe the more a patient can know what we do, the more comfortable they will be. We also offer monthly blogs about different treatment plans and dental information which you can review from the comfort of your home.
Staying Current:
Lastly, we realize that dentistry is an ever-evolving field, and we will always make sure to stay current with the newest procedures and technology as it becomes available. All of our staff stays up to date by attending lectures, conferences, and by reading the latest industry literature. These efforts allow our office to provide all patients with the most relevant care possible in dentistry today.